Karakter design journal
Five Minutes with our friend Sonja Hawkins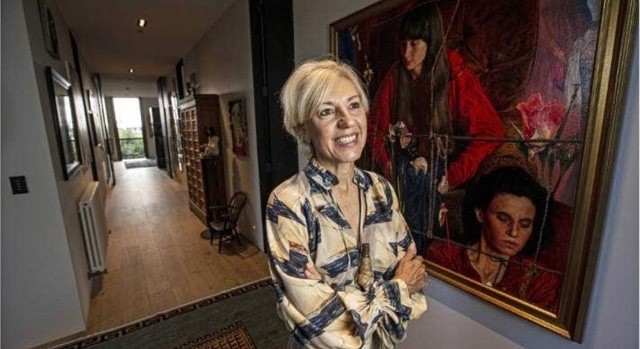 We caught up with Sonja Hawkins, long time friend of Karakter and along with her husband Glenn, is one of the founders of My Art.
What is My Art and how does it work?
My Art is a service that enables people to buy and live with the art they love, and in turn supports artists. It acts like a lay-by, allowing time payment, with no interest to be paid, but as MyArt pay the gallery immediately, the artist can also be paid, and the buyer gets to take the art home instead of waiting until the final payment is made. My Art support our creative community through philanthropic initiatives.
Why is investing in art and design important to you?
So many reasons, but generally speaking, I am interested in the aesthetic, and want the world to be a place of beauty. From the art I hang on the walls, to the furniture I live with, and even the packaging on the products I buy - I want the view to be pleasing. Not just for me, but for everyone. I believe it is so emotive and can have a huge bearing on your feelings and mood. Plus I cannot emphasize how good design makes our lives better, from the pen in your hand, keyboard at your fingers, to the chair you sit on, or appliances you use - good design enhances our wellbeing. Is there any one attribute that links the pieces of art and design in your collection? I am a maker myself, so I am drawn to materiality, and the tactile. You will find textiles, stitching and layers of paint in our artworks, but also a strong link to botanicals (though some may be abstract), with my love of nature. I try to avoid fashion and look for a timelessness in the aesthetic.
What is one piece in your collection that continually challenges you?
We have a sculpture by Oscar Enberg, a kiwi artist based in Berlin, From the exhibition named 'Tut Mir Lied Herr Vater' (Father I am sorry). It is a headless and legless bird, made from glazed and rusted ceramic, with antique cutlery, wool and jute yarn. Oscar refers to fables to tell a story and this work sits on our dining table to be admired and considered every day.
How do your (Yours and Glenn's) tastes in art and design align with each other? And what's one way that they differ?
Glenn possibly has a more conservative eye (he's not at all sure about the bird!) Where I like to be challenged and take bigger risks in the art I choose to live with. That said, we mostly agree on the pieces we choose to bring into our home, through experiences that have brought us to an artist.
Who is an artist or designer that you would love to own a piece by and why?
Tough question - there are so many. But probably a Kushana Bush painting - for their complexity and intrigue, and a John Ward Knox sculpture for its simplicity and beauty. I also covet a Poul Kjaerholm A PK 24 Hammock Chair - for its brilliance in design, materiality, and timeless quality. Why shouldn't a useful piece of furniture be beautiful also.
Do you remember what it felt like to secure your first piece of art or design?
There was the initial thrill, of acquiring something tangible that physically bought joy, and then the sense of it being part of a bigger picture, whereby it was the beginning of building an environment that was 'our home' and a refection of who we are. Wherever we choose to live, the things that surround us ultimately create a home. That was the start of the journey, and now after 30 years on there is a whole story to tell - but the journey still hasn't ended.
What do you believe defines "good design"?
Aesthetic first sprigs to mind - but it is so much more. The usability, and practicality, longevity and detailing. We must also be mindful of sustainability in our world today, but in short, its form and function.
Visit the My Art website to learn more about this wonderful service and how it can assist you in purchasing your dream piece of design or art. Karakter are proud to be a part of the My Art family and offer their service in store, on all our pieces
.